The History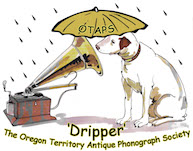 The Beginning: OTAPS was started in 1997 by a group of Pacific Northwest phonograph and record collectors that had been meeting for years at the Salem "Sounds of Nostalgia" show. The original group decided they should start a club to assist in getting together, sharing information, and sharing all the cool stuff they owned. In April 1997 the first flyer was sent out announcing the first meeting. In May of 1997 the first OTAPS meeting was held at the home of Jerry and DeeDee Blais.
First president: Jerry Blais
First secretary/treasurer: Dona Miller
Today: The group currently has 61 members and has very engaging meetings all around the Northwest about 4 times a year.
Current president: Stan Stanford
Current treasurer/webmaster: Dan Melvin